Thunderbirds this Saturday
Springfield Thunderbirds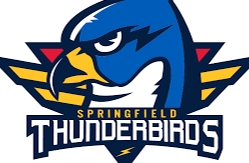 Thunderbirds: The Springfield Thunderbirds have offered discount tickets to our league. Please see the below link if you would like to go. The game will be on Saturday November 4th, and includes the opportunity for players to participate in pregame ceremonies.
https://springfieldthunderbirds.formstack.com/forms/gml1104
For any players that would like to participate in the pre-game ceremony on the Ice, you will get an email or call from the Thunderbirds, but note that you will need to be in the Arena by 6:30 to meet an participate (you will see information in the link when you purchase tickets).
Posted: to General News on Thu, Nov 2, 2023
Updated: Thu, Nov 2, 2023